Dermalux LED Phototherapy
What is LED Phototherapy?
Light Emitting Diode (LED) Phototherapy is a non-invasive treatment that targets specific non-thermal light to energise cells which triggers a cascade of bio stimulatory responses. It is scientifically proven for a wide range of indications including skin rejuvenation, acne and pigmentation to wound healing, psoriasis and pain relief.
Well evidenced for its regenerative and healing benefits, Phototherapy does not transfer heat or create trauma making it particularly effective to treat problematic and inflammatory conditions. With one of the highest safety profiles, it is pain free treatment without downtime and suitable for all skin types.
LED Phototherapy is now recognised as an essential skin care treatment due to its versatility and role in the foundation of skin optimisation and good skin health.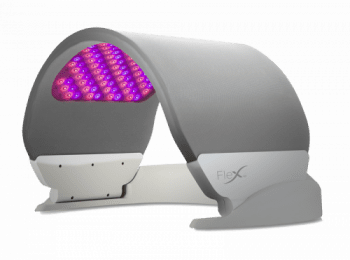 After just one treatment skin is hydrated, plump and radiant and redness and irritation is calmed. LED Phototherapy also promotes a feeling of wellbeing, helping to relieve the stresses and strains of everyday life.
LED phototherapy leaves your skin visibly plumper and more radiant after just one treatment, whilst stimulating cellular activity beneath the surface of the skin to create a healthy, long lasting effect. It's a safe and effective non-invasive treatment.

The benefits of LED Phototherapy
Clinically proven treatment with visible results

Produces an instant lift with long term facial contouring

Softens the appearance of fine lines and wrinkles

Improves the appearance of sun damage

Heals redness caused by acne, rosacea and eczema

Restores radiance

Promotes the body's own natural healing process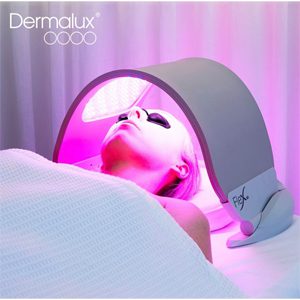 MEDICAL CE CERTIFIED FOR ACNE, PSORIASIS,  WOUND HEALING AND PAIN RELIEF  (MUSCULAR SKELETAL)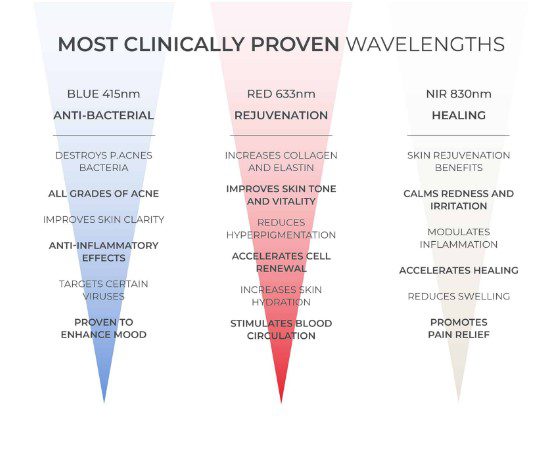 The Dermalux uniquely delivers multi-wavelength treatments tailored to your skin condition. Your therapist will decide which light(s) is best for you following your initial skin consultation.
Blue Light - Blemish fighting light destroys the bacteria causing spots whilst improving skin clarity without irritation. Also provides a calming effect for problem skin.

Red Light - Rejuvenating light energises the cell to accelerate renewal, boost collagen and elastin production and increase hydration for smoother firmer skin. Ideal for restoring vitality and glow.

Near Infrared Light -  Regenerating light offers advanced rejuvenation benefits, promotes healthy skin, calms redness and irritation and reduce pigmentation.
Look at our Dermalux before and after pictures
Dermalux® Flex MD delivers great results, and even better...it's portable! With our exclusive rental programme, you can benefit from professional grade results in the comfort of your home.
To enquire about our rental programme, email info@mccarthyskinclinic.co.uk or phone 01908 103233 where we'll be more than happy to help.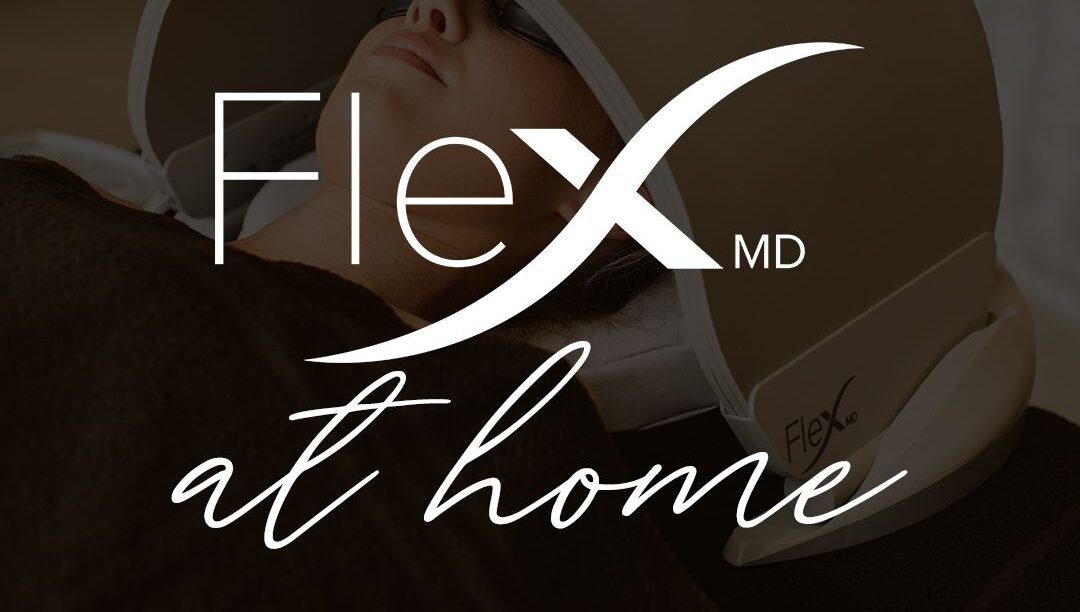 McCarthy Skin Clinic
4 White Horse Yard, Stony Stratford, Milton Keynes, MK11 1FB
Opening times:
Sunday & Monday: Closed
Tuesday: 9:30-17:30
Wednesday: 12:00-21:00
Thursday: 9:30-21.00
Friday: 9:30-17:30
Saturday: 9:00-17:00
Copyright 2023
All Rights Reserved
Terms and Conditions
Privacy Policy
McCarthy Beauty Clinic
4 White Horse Yard, Stony Stratford, Milton Keynes, MK11 1FB
Opening times:
Sunday & Monday: Closed
Tuesday: 9:30-17:30
Wednesday: 12:00-21:00
Thursday: 9:30-21:00
Friday: 9:30-17:30
Saturday: 9:00-17:00
Copyright 2023
All Rights Reserved
Terms and Conditions
Privacy Policy